When we moved to California, in February, coming back to the hot Valley of the Sun in JULY and AUGUST was the last thing I would have planned.  I was excited about our new adventure and anxious to share that experience with friends and family as they came to visit us this summer to escape the heat.  Of course, the fates had other plans and we had a great time!
My absent mindedness is growing the older I get.  Whoever heard a of photographer who forgets to get out her camera for the whole first week of being on "vacation".  (I put that in quotes because it was not a vacation for my poor husband.  I know he enjoyed seeing family, but was working more than visiting.  We are still working on finding a time when we can take a real family vacation.)  Anyway, we got to go to the temple with Stephen's dad, Greg.  It was so great!  I think it was the first time ever we were able to get our schedule's together to do that.  It was fun watching both my husband and father-in-law during the session.  They were both almost giddy.
I want to send out a HUGE THANK YOU to Greg as well, for letting us stay at his house.  We loved getting to spend time with Popito and you made us feel so welcome and at home.
I got to go to the temple with my mom, Betty, and two of my sisters, Monique and Megan, as well.  What a huge blessing it is to have the temple so close to home.  I think Megan's wedding was the last time all four of us were there together too.  This was the 2nd week we were there, so I did have my camera out.  Yay!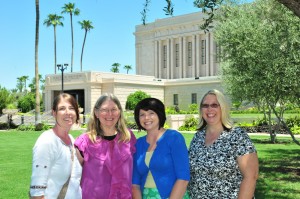 I also met a new friend.  Debbie is friends with Greg and she invited me to go out walking with her at 5:30 am to take pictures of some cute little wild finches and love birds.  Well, I only got a glimpse of the love birds, they were so pretty and colorful, but I wasn't close enough, nor did I have a powerful enough lens, to get pictures of them.  I did get some fun ones of the finches though.  And, since I'm a pushover for the sunflowers they were feasting on, and the cute bees collecting pollen I shot a couple of those too.
Also, thanks to my wonderful friend, Jennifer Bell, I got to take my kids on a tour of a great petting farm in south Gilbert called Marley Farms.  We met up with Megan, Catcher and Whitman, and some more wonderful friends, Kami, Bryson and Brenna Spoelstra.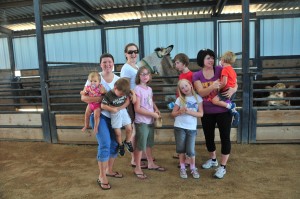 Can you see the zonkey in the background?  That's right, it's a donkey, zebra mix.  I'm pretty sure he was looking for the food in Jen's hand during this shot.  This was near the end of seeing the farm.  The kids were hot and tired by this time.  Plus, those big animals were scary.  They kept wanting to lick us.  That may have been from the food on our hands.
The animals were so much fun.  It was hot though, and I would recommend it to EVERYONE, in the fall and winter time.  Summer was just a little too hot for the little guys.  I think my kids did ok but their faces were definitely red.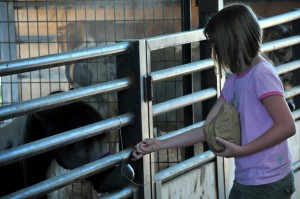 Addie loved feeding the ponies.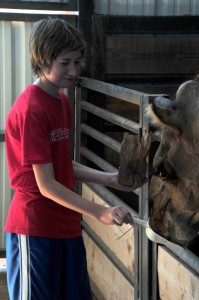 Kas liked feeding the camel.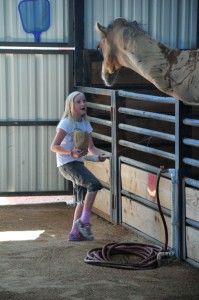 The camel became Zo's best friend.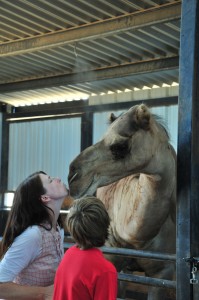 And, I got a kiss from the camel.
I love the llama.  His name was Toma, and so must have a head shot. Tomallama, you've got some competition.
Sweeties was next on the list for childhood entertainment.  Ok, so there was some mom entertainment too.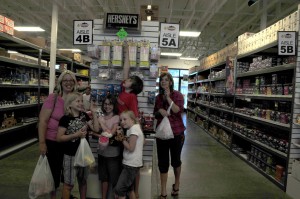 This is a child's dream.  Nothing really fancy or frilly about it, just aisles and aisles of candy.  It was fantastic.  Sugar, sugar, and more sugar. Hooray!
So, overall we had a great time.  We drove back and forth from Mesa to Chandler and back.  The kids got crafty with their Hird cousins making purses and necklaces (well the girls anyway), swimming in green pools and playing at Popito's.  Then they went crazy with the Bogle cousins, and friends, jumping on the trampoline, eating candy, shaved ice, and playing cards.  Stephen and I got to go out together, (We saw "Dinner for Schmucks".  Hilarious, don't take your kids.)  and then have a girls' and guys' nights out.  I still feel bad that Tom wasn't able to come with us.  Sorry, man.  Next time, I'm calling a baby sitter.
I had a blast hanging out with Marc and Ginger and then with Rich and Amy.
I was so glad we got to make it down to attend the funeral of a wonderful friend, and example in my life, Bishop Gale.  He is my best friend's dad, and while it was wonderful to see her and so many others, I wish it was under better circumstances.  That could lead to another blog completely and so we'll leave it at that.
I had so much fun getting our "book club" back together.  I think we did at least mention books.
It was also my parents 47th anniversary while we are there.  There was not any huge party for this event, and I'm so sorry I missed their dinner.  (We had other plans already.)  I am going to take this opportunity to tell them how incredible I think they are though.
I love my parents so dearly.  They are wonderful examples, to me, of unconditional love.  They are so dedicated to each other.  Heaven knows we, 10 kids, put them through the ringer.  They taught me to be strong but still see beauty in every day.  They taught me to love and trust the Lord.  They taught me how to be me.  Thank you, Mom and Dad!
Well, now we are back in California and working on getting everything back into order.  I'm glad to be able to go outside without feeling like I'm roasting.  I had a wonderful time in LA yesterday, although that will be another blog, as well.
A long time ago, when I was coming home from my mission, I found that there was room in my heart to have more than one home.  I was getting ready to go home, and yet I felt like I was leaving home.  I feel a bit the same now.  I'm so glad I got to go home and visit family.  I even like the dessert and the heat.  Now we are back.  No more living out of a suitcase and my own bed feels so wonderful.  It's good to be back home.  Now, it's time to hurry and get this done so I can go to the beach.