Ever have those days where you accidentally let your head hit the pillow and immediately know that there is no way it's coming back off?  Last night was one of those.  I planned on writing this all down yesterday, but yep, the pillow attacked and I was a goner for the night.
The kids went back to school today after a fabulous spring break.
Last week we traveled back to AZ for a visit, Easter, breakfast burritos (I mean General Conference), and spring break.  It was great to see everyone.  We got to see my nephew, Parker, get baptized.  He's such an awesome kid.  I could just see the excitement bursting out of his body.  He wasn't hyper, like most kids when they are excited, but he was so eager to be good.  He just smiled the whole night.  I don't think I've ever seen him so full of light.
The next night was a birthday party for my nephew, Cully, and my great-niece, Alexandria.  What beautiful little 1yr olds.  They are both so cute, but so different.  I think my favorite part was watching the two of them see each other when Alex first got there.  They both got so excited.  It's like they already have such a great bond from being birthday buddies.
Next day we got to dye Easter eggs.  I got my camera out for this one.  What a blast.  Yes, dying eggs is fun but for me it's all about the fun pictures I can get.  I even had a budding photographer join me.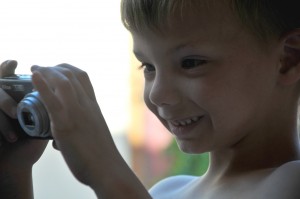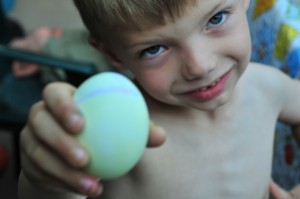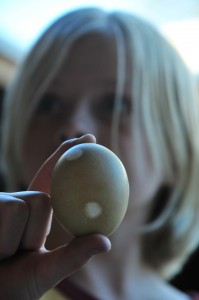 Can you tell Emma's hitting that pre-teen stage.  Brown eggs and didn't want her picture taken.  I compromised with her and just threw her out of focus instead of cutting her out.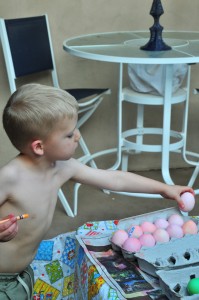 Karsten wanted all one color of eggs.  It was so funny.  When someone pointed out that they were all one color, he went back and redyed them all another color.  He ended up with a dozen pinkish eggs.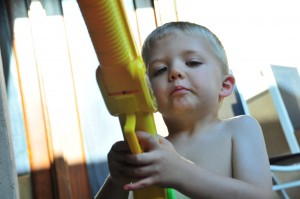 Hey, when Karsten wants to do something, don't mess with him.  He's tough.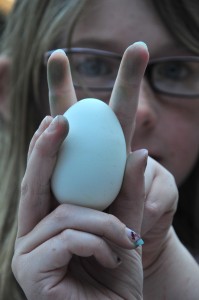 Addie thought her egg needed some bunny ears for Easter.  I loved the chipped nail polish and colored fingers.  I always remember trying to get the dye off my nails.  I guess if I didn't stick my hand in the dye it would be easier.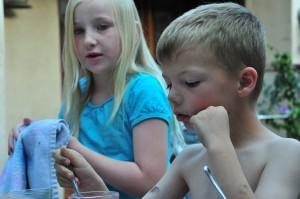 Zo and Brecken together again.  I know Zo was so happy to have her Breckie with her again.
Then there were these adorable faces.
What sweet little boys these are.  They were always such happy babies.
Easter morning was fun.  The Easter Bunny hid eggs all over Nana B's side yard and we got to watch as all the little cousins, that were there searched for them.  The older kids actually took longer to find them than the younger ones.  I think one of my favorite pics of the morning was of Catching feasting on his find.  It seemed to make him so happy.
Ty and Shanda brought their cute little wiener dog with them.  I love this picture of Spooner and Kas.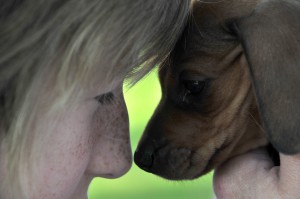 Ok, so this is getting long.  We had a great time eating breakfast burros and loved conference.  I loved that I could actually hear it.  What an amazing, uplifting, hopeful message.
So I took pictures of Ty and Alexandria too, but have some editing to do with both those shoots.  I'll put up post on my ducklips blog about both of them probably toward the end of the week.
A huge thank you to Kristin for cutting all of our hair.  You did a fabulous job as always.
I wish I had had more time just to hang out with my mom and dad.  I loved the little bit of time we did have. The week went very fast and I loved spending every second with everyone.  I was very glad to get back home though and see my husband.
Stephen, unfortunately, couldn't come with us so we were all anxious to all be together again.  It almost killed me when I got on the wrong express way and added about 20 more minutes to my trip home.  The drive went really well other than that.  We got home about 9:30 and I don't think we went to bed until around midnight.
We took Steve to work the next day, went swimming, and then picked him up so we could go out to dinner at the Pier.  It was such a great evening.  The restaurant we ate at was not that impressive, a small bar inside, with some table outside in the back, but it was at the end of them pier.  We watched all the people out fishing.  There were probably about 100 people lining each side up and down.  While they were fishing, there were seals out in the ocean eating the fish off their lines and playing.  It was so fun to see.  Then while we were eating 2 dophins came swimming by and stayed to play in the same area.  It was almost perfect, just a little chilly.  After dinner, Antoinette and I went back to the car while Stephen took Kas and Zo to a little surf shop and bought some boogie boards.  We fully planned on going to the beach the next day.
Next day came and it was cold.  We waited a little while for it to warm up, got everyone ready for the beach about lunch time and then suddenly changed our minds and told the kids to go upstairs and change for Disneyland.  Anyone who really knows me knows that I'm not a spontaneous person.  I like to plan.  I like to make lists.  I make lists of the lists I am suppose to make.
Ok, that was a long break.  I started this almost a week ago.  I got so caught up in other things this week.  Mostly, at night, I was reading The Robe.  What a great book.  I decided to read it for Easter.  I've read it before at Christmas time with my lovely book club.  I don't often read books over again, but I think I am enjoying even more this time around.    I really wish I had it with me yesterday when I spent almost 3 hours at the urgent care with Kas.  He fell during PE.  Luckily it was just a sprain and he didn't break it.  He does have to keep a brace on it for 2-4 weeks though.
Anyway, We got way off topic there.
Disneyland was great!  It was the first trip for the kids and I haven't been there since I was probably about 8.  There was such a wonderful sweet fragrance in the air, kettle corn, cotton candy, caramel corn.  It really must be a magical place.  Where else could we be in that crowded of a place and all of us be happy about it.  Well, most of us were happy.  Poor Zo got scared on the Big Mountain Railroad ride, was sure she was going to fall out, and was a little pouty the rest of the time.  So we, Zo and I, went to Tarzan's tree house while the rest of the family went on the Indiana Jones ride.  It was fun, though.  I didn't get a lot of pictures.  I only had my phone.
It was a perfect ending to a wonderful spring break.