I haven't posted on this blog for a very long time, I know.  So, I thought maybe I should start up again since I live so far from friends and family now.
This really is a great place to live.  There is always something to do and yesterday we fit as much as we could into the 24 hours available.
Stephen had to do his paper for school, so the morning outing was just the kids and I.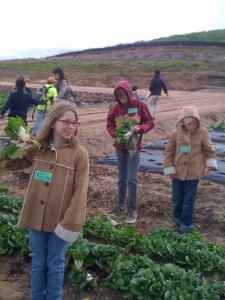 There was a CSA (community supported agriculture) day at Tanaka Farms.  That is who we are starting to get our produce baskets through now.  I am so excited about this.  They are all organic and the baskets we get are fresh picked and seasonal.  There's nothing better to eat or cook with in the world, IMO.   Anyway, back to the day. 
We got to go out to the fields and pick our lunch.  They had labeled what we got to pick, onions, cilantro, baby bok choy, radishes, snap peas, and spinach.  It was so fun that is was hard to pick only what we were going to eat.  Then we went to a washing station and cleaned up the veggies.  Zo made a friend there.  It was a little lady bug on a spinach leaf.  Then we went to the tables and cut up our veggies, used a little olive oil, and seasonings, added some tofu, wrapped them in tin foil, and threw them on the grill.  It was delicious.  Kas did pretty good eating everything but the tofu.  The girls not so much.  Zo did decide that she really liked the grilled radishes though.  Addie just stuffed herself on oranges.  They also had baked beets.  I've never had eaten beets before ever so we had to try them.  It was so delicious!  Kas even went back for 2nds.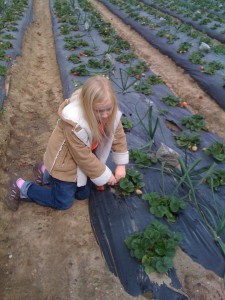 After that we got to pick a few strawberries for the ride home and even got to take home some tomato plants to plant on the back porch.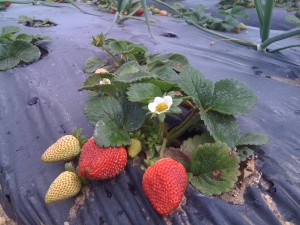 Time to go to church.  I'll finish later and add pics.
Okay, I'm back.  Kas is reading to me and the girls are reading to each other.
So, after the the farm we came home and Stephen needed to get out of the house.  We took a drive up to Costa Mesa to see where the Ikea is.  I don't know why, but we really like Ikea.  Then we drove down to Laguna Beach.  It was the first time for us at that beach.  I really like it.  I think it would be a great one to visit when my mom and sisters are here so we can go look at all the cute shops on the PCH.
It was really cold though, so we didn't last long.  The storm was really blowing in by then and the wind was freezing coming off the ocean.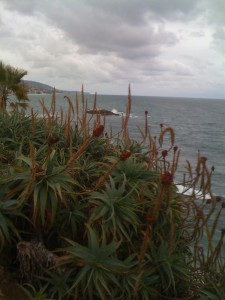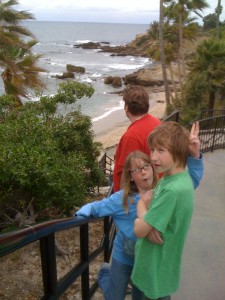 We found a little wind blocker behind these trees and hung out there for a little while.
Next was home for quick dinner, showers, and off to a baptism.  There was a man baptized into our ward last night.  We met him with the missionaries a few weeks ago and so were excited to see him be baptized.  The chorister was sick, so I ended up leading the music, not one of my strong points.  I had never even heard the closing song, but we had a great pianist and it was 3/4 time so I survived.
To top off the evening we went for Cold Stone and came home to watch Series of Unfortunate Events with the kids.  It was a late night, but a lot of fun.
Oops, I almost forgot.  While at the farm and eating lunch, Zo lost her tooth.  She was so excited.  Everyone around us was excited for her too, until suddenly, she dropped it.  We spent the next 20 minutes scouring the dirt and rocks under our feet trying to find it.  Even the dad of the family next to us and the owner of the farm were on the ground with us.  The faith of a child is amazing, That's all I can say.  After 20 minutes and moving all around the area, I went to stand up and there it was beneath my knee.  If you know Zo you know how incredible she is when she's excited.  When she got her gold dollar under her pillow this morning the whole world was magic.
So, overall a pretty good day.  Wish I had more pictures and that I had remembered my camera, but phone pics will have to do for now.
I'll try and keep this updated more often, and please feel free to call me out on it.  I may need the reminder.
Also, look for updates to my photo blog coming soon as well.