It's been quite a while.  We had a great time up north.  Thank you all for your suggestions on where to get snow clothes.  The majority of it we ended up finding in my parents closets.  Thanks Mom!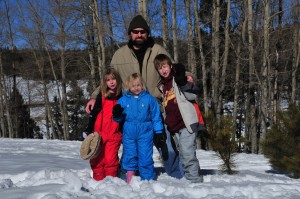 Zo thought that her snow suit was the coolest thing in the world and wouldn't take it off.  I was so funny when she decided to go pose with it along with the statues outside our room.  She made the other kids come join her and that started a fun shoot.
Well, Stephen is finally off the computer so I think I'll finish up later.