I just wanted to post a few pictures of all the fun we are having in California.    This is the kids all the way up.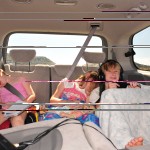 When we got to Oceanside we still had a few hours to go til we got to check in so we filled the time this way.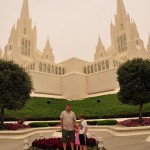 We love the San Diego Temple and were so excited to show it to the kids.  They thought it was beautiful but were freezing so we didn't stay long.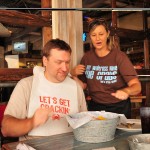 Stephen enjoying his bucket o' crabs at Joe's.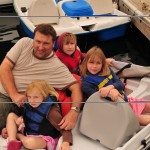 We used up some of our time going on the paddle boats in the marina.  Everyone but Zo loved it.  I love the look on her face.  It tells the whole story.  She was just sure there were sharks in the water that were going to eat us.
So I don't know why I have a fascination with birds.  They are just so fun to photograph.  I mean how often can you get a picture of a seagull and a pelican having a food fight.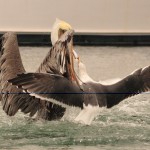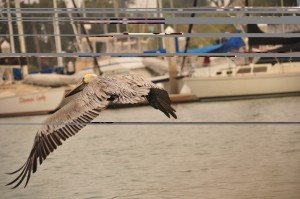 I love this photo.  I don't know why I am getting streaks through my photos.  They aren't like this in my files.  Anyway,  I was tracking this pelican taking off and as I turned I ran into the poles for the canapy over our paddle boat.  Arggg,  so then I just turned my camera really quick and shot.  Have i mentioned sometimes I really love auto focus.
Monday
So Monday Stephen had to work all day.  The kids and I entertained ourselves in various ways.  1st there was a crazing thunder storm, which never happens here,  then we went down to the work out room.  It was so funny to watch the kids run on the treadmill and try to use the machines.  Kas actually ran for 15 minutes without stopping.  I guess running club has paid off.  After that we played in the arcade.  That didn't last very long.  So, then i tried to teach them how to play pool before going and getting into the pool.  We had a lot of fun swimming and jumping from pool to pool.  No one else was there since it was still cloudy from the morning.  After getting all pruney we went up and had lunch in the room then went back down to play.  Kas met a friend from Melbourne, Australia to play basketball with and the girls had fun playing air bonk.
For dinner, we had our neighbors over, who the girls had made friends and crafts with earlier.  We had a little bbq out on our patio/ lanai.
Tuesday
Today, I didn't really take many pictures.  We went up to LA so Stephen could go meet the people from work.  He had a great time, but I'll let him tell about that later.  The kids and I went walking around the mall that is by the studio, just off of Santa Monica Blvd and Avenue of the Stars.  It was fun walking around stores that I would never actually shop at.  We saw the movie Igor and scared the girls to death.
The day was really fun, and even the 4 hour round trip in the car wasn't too bad.
Now it's time for bed.  I'll put up more in a couple of days.  We should have a blast at the beach tomorrow and Legoland the next day.
Goodnight