I have been meaning to post so many things lately.  Everywhere I go I have a camera with me and I take some pictures just because I want to blog about them.  Then I get home and start looking at everyone elses blogs and find I have used up all my time and it is time to make dinner and run to soccer practise.
So, now here we go.  It is Sunday morning.  I just sent my son to shower and I have about half hour before Zo gets up to get her ready.  Adds will be staying home today with a horrible fever that took Zo out of commission on Thursday. 
Thursday was also Kas' 10th birthday.  Stephen drove out to Superstition Springs at 5:30 am so Kas could have Krispy Kreme donuts for breakfast.  They were yummy!  After school we did a scavenger hunt for birthday presents and then Kas, Addie, and I went to Game Stop to spend his present.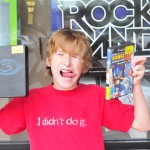 Kas found two games used that he has been looking for and wanting for a long time.  After that we went to eat at my favorite place, Peter Piper Pizza.  We had a lot of fun and got home before the worst part of the dust storm hit.
A couple weeks ago Kas had another big accomplishment.  He got his Bear in cub scouts.  He was very excited to have done this before his birthday.  We all had a lot of fun at pac meeting and Kas even got to help lead the bear hunt.
So, a while ago I made up a chart for dishes nights.  This hasn't caught on as well as I had hoped.  The night of pac meeting though, Antoinette came home and wanted to do the dishes.  I almost said no, it's time for bed.  Then I thought what the heck am I thinking?  Of course she can do the dishes.  Now, anyone who knows my little girl knows that she likes things just so.  That's not to say that she can't make a mess, but when she's working on something everything must be done in order.  Change is never a good thing in her mind.  So, I went into the kitchen and this is what I found.
She says she is almost ready to rinse them.  She even organizes her dishes while washing them.  Wow!  I'm hoping that some of that rubs off on how she keeps her room.  The other day she reorganized Kas' backpack.  She didn't think that how he had it made any sense at all.
I think it is hilarious to see all of my children's personalities popping out as they are growing up.
Soccer also started last week.  It's so fun to see my girls play.  Zo is the oldest on her team and quite coordinated.  She scored two goals last week and this week she scored our team's first goal.  She's doing great for the most part.  Of course this is all dependent on her mood.  Sometimes she just doesn't feel like playing.  Yesterday all she wanted to do was draw a kitty in her notebook.  It all changed though when she her people cheering her on.  I'm pretty sure she thrives on accolaides.  After her first practice I asked her how she liked it.  She said it was bording and they didn't even get trophies.  Zo plays on a team with her cousin Brecken.  He helps her get the energy to play I think.  I love watching his little legs dribbling the ball down the field.  Seriously, the ball is almost up to his knees.  They are so cute and making friends very fast with the rest of their team.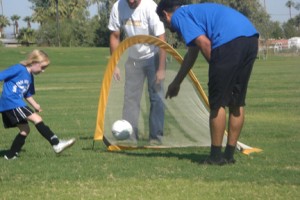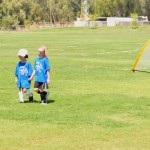 Antoinette is playing on an all girl team.  She is having a great time as well and loves to play guard and goalie.  The difference of just two years between the girls' ages is huge when it comes to coordination.  These girls are six and already have great control of the ball.  Now they just need to learn how to pass to each other and how to get aggressive.
I'm working on my farmer tan and getting a head start on my cancer since I keep forgetting to put sun screen on myself.
Well I guess that's it for now.
Oh yeah, this one is just for fun cuz I was watching Catch and he was trying to eat this ball.  He just wouldn't believe that it was too big for his mouth.