So, I thought it was about time that I start posting again. There has been too much in the last month or so for me to think clearly enough to share with other people how I've been feeling. Thanks to my wonderful husband, who has been posting a bit, you all know most of it. I just haven't been in the frame of mind to put my spin on it.
I thought I'd put up a couple high points that have brightened my days. Stephen already posted about his new job. I am really enjoying having him home with me. It's so nice to have both of us around in the morning to take the kids to school and to put the kids to bed at night. It's fun to be able to talk to him during the day as well, and since he doesn't have to drive to Phx everyday in our awful valley traffic, he has been so much happier. It's nice to have my husband back.
Every first weekend of May we get together at my parents house for the Kentucky Derby. This year we had a smaller crowd than most. We did miss those who couldn't be there but tried to enjoy it without you. 😉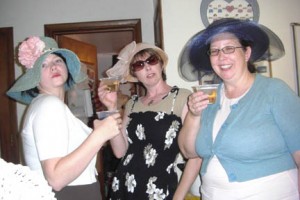 Cinco de Mayo is also big in our family. Not so much because of Mexican freedom, but because it is my mom's birthday. At kind of late notice we decided to take her out for her birthday. We met at Lucille's bbq restaurant in Tempe. Mom had been spending all of her time at the hospital and that was a good middle ground to drive to with rush hour. It ended up being great. I really liked the restaurant and they didn't seem to mind all of our crazy kids. Tom had a great idea of having the valley kids give Mom an ipod for her birthday. She had been wanting one but hadn't taken the electronic plunge and gotten one yet. It was fun to see her reaction.
I just have to say that my mom is the best. Megan and I were both just saying that we had thought about writing a blog about her for Mother's Day but neither of us felt like we could do her any justice. She is just so amazing. I really don't know how I was lucky enough to get to have her as my mother.
Lastly, and probably least but it still makes me happy. There has been a family of owls living in Mom's trees. It's fun to watch them as they've gotten bigger and now we can see them swoop at night and fly from tree to tree. Here is a picture of one of the babies, there are 3, and one of the mom, I think.