My wonderful husband, whom I just talked up in my last blog, has made a great family blog site for us. I am so excited about this blog. Kas has starting blogging and so has Stephen's dad. Steve always has had a blog, but now I think he will do some fun things here.
Our New Year started out w/ a bang, continued w/ not much more than a mild hum, and then (at least mine) has fizzed. I got sick yesterday w/ a vengence, a bad cold and stomach flu. Luckily today I am on the upswing, and I'm sure by tomorrow I will be ready to start off the new year in style.
We started at Mo's house for Emma's b-day. There I took my favorite picture of Brecken of the season.

Here are some other fun pic's from Emma's party.





Then we went to the Coria's to ring in the new year. Monique graciously kept Kas and Antoinette at her house to play with their cousins while Zo and I went to pick up Stephen to go to the Coria's. We celebrated with Cuba and left to get kids to bed early.
In the morning, Zo said she wanted to go to Olive Garden for breakfast. We went to Paradise Bakery instead and had a nice quiet breakfast before most of the city was awake.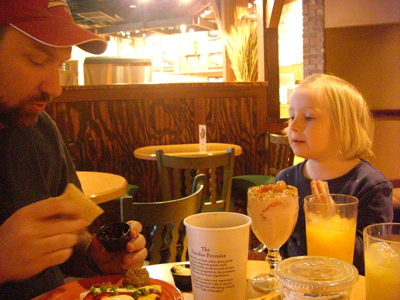 Over all the year has been good, other than getting sick. School starts again next week and it's time to get back into some routines and maybe start some new ones.